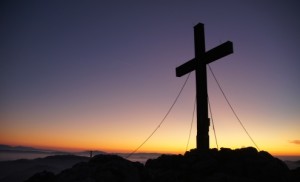 God says in the Bible:
There is none righteous, no, not one, for all have sinned and fall short of the glory of God.
Since sin and death came into this world
no person loves God with all his heart, soul, mind, and strength
no person worships and serves God as the Creator and the only true God
no person submits to God and obeys his word in righteousness and holiness
every person is corrupt in heart, mind, and life and sins against God every day
All the world is guilty before God.  The wages of sin is death.  Every person is under the wrath and curse of God.
The gospel or good news is:
God sent his Son Jesus Christ into this world to save us from his just wrath and curse due to us for our sin.  Jesus Christ took our sins upon himself and offered himself on the cross as the sacrifice that fully satisfies God's wrath and justice.  God gives us the perfect obedience and righteousness of Jesus Christ so that it is as if we had never committed nor had any sin.
Jesus Christ's objective work of salvation can only be ours by the gracious and sovereign work of the Holy Spirit to give us new hearts, wills, and minds so that we hear, believe, and obey God's word.  The Holy Spirit also gives us the gifts of repentance by which we turn from our sins unto God and faith by which we receive and rest upon Jesus Christ alone for justification, sanctification, and eternal life.
If you confess with your mouth the Lord Jesus and believe in your heart that God has raised him from the dead, you will be saved.  For with the heart one believes unto righteousness, and with the mouth confession is made unto salvation.  For the Scripture says, Whoever believes on him will not be put to shame. For there is no distinction between Jew and Greek, for the same Lord over all is rich to all who call upon him.  For whoever calls upon the name of the Lord shall be saved.  Faith comes by hearing and hearing by the word of God.  Romans 10:9-13,17
We invite you to come to the morning and evening worship services every Sunday to hear God's word.